CHIA
NATURALLY GROWN
PREMIUM WHITE SEEDS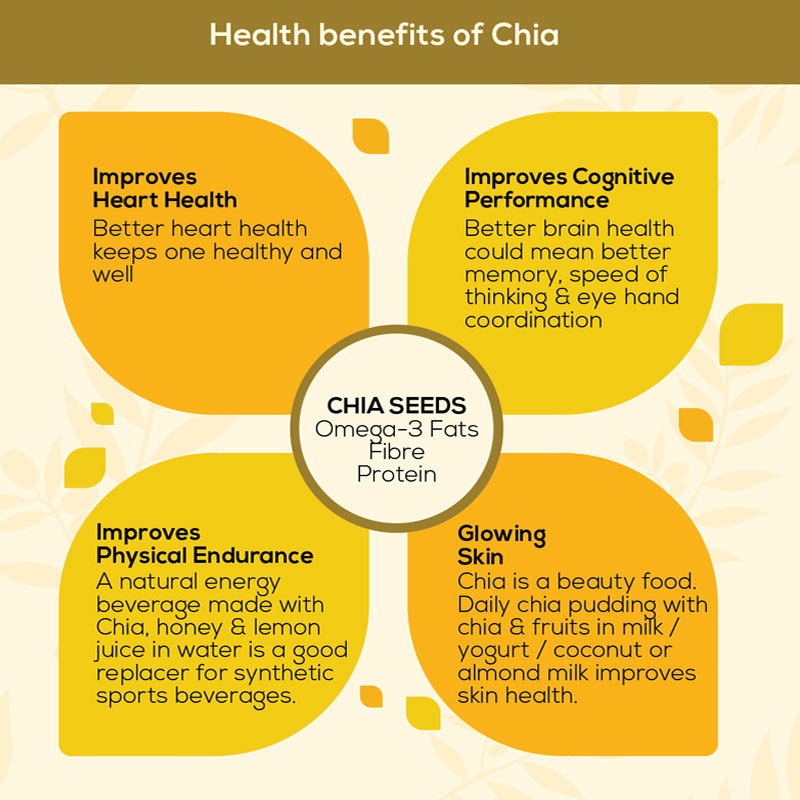 The health benefits of Chia , which is part of the leaflet content, is given below for easy reference:
| | | | |
| --- | --- | --- | --- |
| Health benefit | Omega-3 | Fibre | Protein |
| Improved cardiovascular health | ✔ | ✔ | |
| Increased cognitive performance (Improves attention span, concentration & memory power) | ✔ | | |
| Increased physical endurance | ✔ | ✔ | |
| Helps with weight loss | | ✔ | ✔ |
| Glowing skin | ✔ | ✔ | ✔ |
| Optimum wellness (improves physical stamina & mental alertness) | ✔ | ✔ | ✔ |
| Mood alleviation | ✔ | | |
| Promotes healthy Brain chemistry | ✔ | | |
| Supports blood sugar management | | ✔ | ✔ |
| Gut / Digestive health | | ✔ | |
How to use Chia
Simplest method is to place a tablespoon of SaiYum premium white Chia seeds in a glass of water (250 ml), stir briefly and allow to gel for about-10-15 minutes. The Chia gel, along with the water, can be directly consumed. Alternately, a tablespoon of Chia gel can also be consumed mixed with fruit juices/ curds/ buttermilk etc. instead of plain water.
Chia gel can be mixed with milk / coconut milk, fresh fruit, honey, drinking chocolate etc. to make delicious Chia puddings and desserts.
Roasted or even raw Chia can be sprinkled on our breakfast cereals, yogurt, salads, sautéed vegetables or rice dishes.
Chia seeds also blend in well into many of the everyday baked foods that we eat. The seeds can be added while baking, to add nutrition quality to the baked products.
Because of their ability to form a gel, they can be used to thicken sauces and even used as egg substitutes in recipes.
Chia gel mixed in water with a little honey can be consumed directly as a health drink.                                                                  Chia is a versatile ingredient and has wide application in even traditional foods.
How much do you need ?
On an average an adult needs about 1-1.6 gram of omega-3 fat daily (www.nutri-facts.org). Chia seeds have 30% fat content, out of which ~60% is Alpha Linolenic Acid that converts into EPA and DHA in our system. Up to 15 grams of Chia can be consumed daily. A tablespoon of Chia is approximately 5 grams.
Omega-3 your way to great health with Chia Supersize your nutrition with Superfoods
Recent trends show alarming increase in lifestyle related health disorders due to the current fast paced urban lifestyle. These new age diseases such as Cardiovascular diseases, Diabetes, Obesity etc., pose a significant health challenge in India.
Along with an active lifestyle. advanced nutrition is important for us to regain good health and remain healthy. Thus, food choices in urban India need to rapidly transform to power our fast paced lifestyle.
Superfood Chia is the richest source of plant based omega-3 fats and has good quality protein and fibre. Chia is also naturally gluten free and also rich in micronutrients and antioxidants that is essential for our wellness and health. The word "Chia" literally translates to "life-force energy".
An ancient crop from over 5000 years ago. Chia seeds was one of the main dietary components of the Aztec and Mayans era in South America and Mexico. Forced into obscurity due to military invasions of yore, the recent years have seen a renaissance of the Superfood in South American regions. Chia seeds are now emerging as a new superfood. Central Food Technological Research Institute (CFTRI).
India's premier food technology research organization has developed agrotechnology for premium white Chia to grow in Indian conditions. Chia is naturally available in white, black and mottled colours. Premium white Chia has better quantity and quality of Omega-3 rich oils. Coloured Chia seeds are also good for health but besides having possible lesser quantity Omega -3 oils, also stand a risk for adulteration with similar looking sabza seeds in the open markets.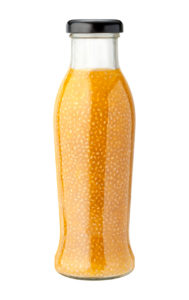 About SaiYum Foods Chia Seeds
Saiyum premium white Chia has been grown in beautiful lush farms of sun kissed South India with the CFTRI agratechnology. The crop has been grown with natural techniques and perfect amounts of water for irrigation and Chia has been ripened naturally in warm sunshine filled days before being carefully harvested and cleaned prior to packing. Enjoy your daily dose of Omega-3 fats with SaiYum premium white Chia farmers in India get a global market. Powered with technical support from CFTRI, SaiYum Foods offers Superfoods for all from paeciatrics to geriatrics.