QUINOA :
A complete protein diet for a toned body.
Supersize your nutrition with Superfoods.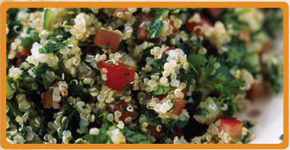 Recent trends show alarming increase in lifestyle related health disorders due to the current-fast paced urban lifestyle. New age ailments such as Cardiovascular diseases, Diabetes, Obesity, Poor immunity, Hypertension etc.. pose a significant health challenge in India. Along with an active lifestyle, advanced nutrition is important for us to regain and maintain good health. An upgrade in daily food choices that deliver the required nutrients in a quick and easy way has become essential in urban India today.
About SaiYum Foods
SaiYum Superfood Quinoa has been grown in the lush, sun-kissed terrain of South India with the CFTRI agrotechnology. Substitute your daily dose of grains with SaiYum's Quinoa Seeds.
The agrotechnology has been developed to grow the quinoa seeds even in marginal soils of India, thus empowering farmers. CFTRI has also rendered processing protocols for post-harvest management. The processes followed ensure reduced Saponins and thus reduced bitterness that occurs in Quinoa seeds.
SaiYum Foods is committed to sustainable and natural agriculture practices and in helping Quinoa farmers in India get a global market. Powered with technical support from CFTRI, SaiYum Foods offers Superfoods for all from paediatrics to geriatrics.
Quinoa's high nutritional value makes it useful for children who need nutrition for adequate growth, those training for sports, people who are managing diabetes and those who just want to feel better and lead a healthier life.